If you're planning a first-time visit to Fort Lauderdale, Florida – you're in luck. I just spent a week exploring the area and have a handful of tips and tricks to share that might make your experience a bit easier and more enjoyable!
Fort Lauderdale is a popular tourist destination throughout the entire year. Families love it during the vacation season and snowbirds love it for the warm temperatures during the winter. You can find a diverse range of places to stay and spend your time in the Greater Fort Lauderdale region with more than two dozen "neighborhoods" to choose from.
Getting Around Fort Lauderdale
While I'm obviously a big promoter of traveling by car, you can actually have a great time in Fort Lauderdale without one. If you plan to stay downtown, near Fort Lauderdale Beach, or even in Hollywood – you can use what's called the "water taxi". The Fort Lauderdale Water Taxi currently costs $28 for an entire day of use (10am-10pm) and will take you to all sorts of great stops. Let's say you have a hotel near the beach and want to visit the shops and restaurants along Las Olas Boulevard. Instead of driving and paying to park – you can hop on at stop #6 and ride the taxi to stop #2. When you're finished – take the taxi back, or go explore another stop along the way.
Parking in Fort Lauderdale can be expensive depending on where you are able to find a spot – so this is a great option. I met travelers who just enjoyed riding the water taxi for the entire length of the route – just to see the expensive homes, get a lay of the land, and enjoy the nice weather. Each ride does have some sort of narration to point out some local history and informative stories about the area and some of its wealthy part-time residents. Don't forget to download their app so you can track the boats and approximate pick-up times.
The Beaches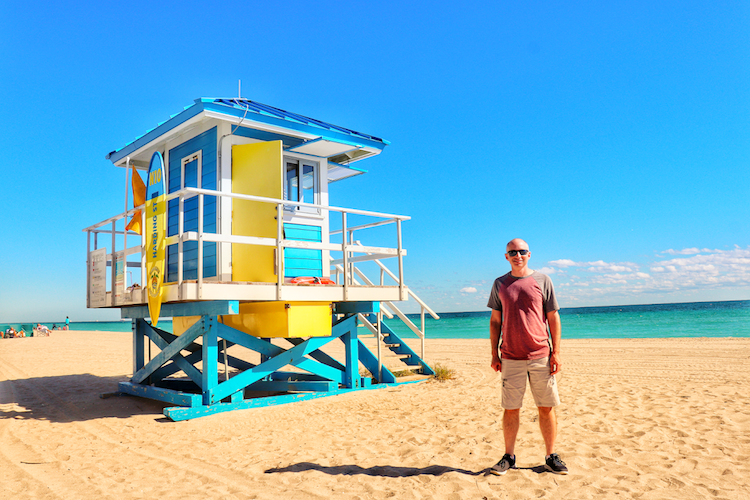 Just like the various neighborhoods – the beaches here vary as well. Fort Lauderdale Beach is probably the most notable with lots of restaurants and bars just steps away from the sand. Hollywood Beach – about 20 minutes south has what's called the Hollywood "Broadwalk" – a nice stretch of paved walkways for bike riding, walking, and shops for souvenirs and gifts. You'll also find a Margaritaville Resort.
Up north a bit you'll find Lauderdale-By-The-Sea with a bit more of a small town feel. There are still shops and places to eat but it definitely has more of a chill vibe to it than the busier beaches of Fort Lauderdale and Hollywood. My favorite part is the colorful signage and beach chairs available for the public to just sit and shoot-the-breeze, located just outside of the beach entrance.
Riverside Hotel & Las Olas Boulevard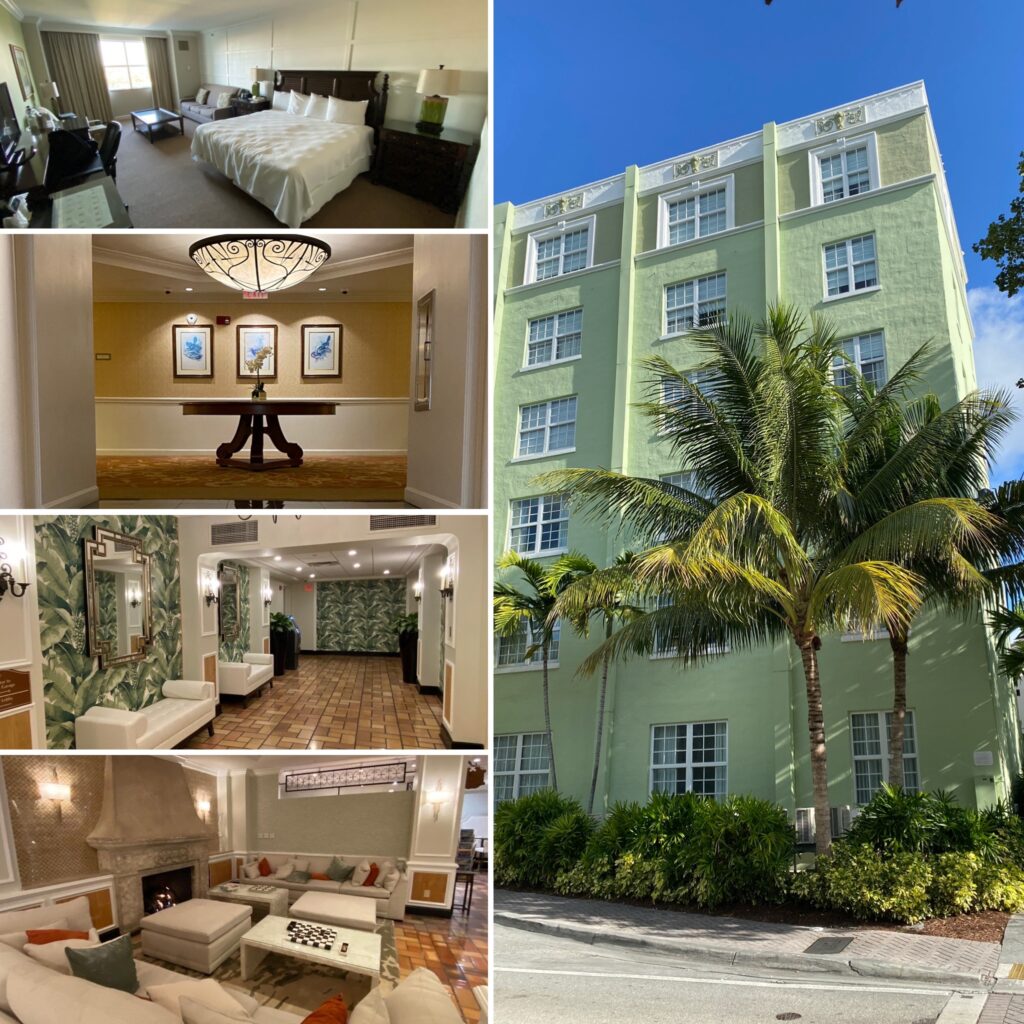 I am so grateful to the Riverside Hotel for hosting me during my visit to Fort Lauderdale. This is without a doubt – the ideal location to easily explore everything on Las Olas. It also happens to be Water Taxi stop #1, making it super simple to experience the rest of Fort Lauderdale as well. The hotel first opened in 1936 and has spacious guest rooms with an "old Florida" feel – complete with soothing green colors throughout the property. While they do charge for parking – the garage is located directly behind the hotel and is super easy to get in and out of from the hotel.
It's also a popular spot for weddings and events! I only know this because I found myself on elevator rides with guests from a wedding party, and various conference groups during my stay.
Las Olas is the most popular street in all of Fort Lauderdale. It's full of restaurants, art galleries, and shopping. The main drag runs directly from the Riverside Hotel on up to Las Olas Beach. It's very walkable though you'll want to have some comfortable shoes on if you plan to walk the entire length. Water Taxi's Stop #2 will take you directly to the highest concentration of shops and restaurants.
A few that I tried during my visit: Wild Sea (located inside the Riverside Hotel), Ann's Florist & Coffee Bar, B Square Burgers, Las Olas Pizza, and Luigi's Coal Oven Pizza.
I Love You!
Always down to track down a fun sculpture or roadside attraction – I made the trek out to the town of Davie, Florida to find this gem. It's located outside the Young At Art Children's Museum in Broward County. Artists Roberto Behar & Rosario Marquardt created an outdoor, open-air room; a unique multi-purpose area where children and their families can read, create art, picnic and enjoy the library's popular storytelling program.
More Art In Hollywood
If art is your thing, you'll love walking around downtown Hollywood to check out the cool murals. Over 30 murals are located on buildings, back alleys, and even the sidewalks around Hollywood. The city's website has a map that will guide you around town to find them. There's even a listing of thumbnails at the bottom so you can drive directly to the ones you like best.
Hugh Taylor Birch State Park
This one was kind of a surprise! It's a state park right in the middle of the city with an entrance literally across from the beach. I found amazing trees, shaded trails, and even a fun cafe/bar with picnic tables called Park and Ocean. It's only $2.00 for admission and you can get there by foot, car or via the Water Taxi.
Riverwalk Fort Lauderdale
There's a good chance you'll want to escape the hustle and bustle for a little bit or at least walk off some of the calories you've acquired from all of the great food in the area. The Riverwalk is free, easy to find, and offers a fairly relaxing experience with some up close views of boats and various museums. You can also travel the riverwalk on bike if you're so inclined. (The city does offer bike rentals at various locations around town.)
If you make it all the way to the end and discover you're not in as great of shape as you thought you were – fear not! The Water Taxi offers a free service, in conjunction with the City to take people from the Riverside Hotel to various points along the Riverwalk. It's called Lauder-Go. Just find a marker and call the number on the sign if they're not waiting there already.
Explore The Everglades!
The final experience on my week-long adventure was taking an airport tour through the Florida Everglades. It was amazing! Sawgrass Recreation Park is about 30 minutes west of Fort Lauderdale and offers airboat rides the entire year. You'll most likely see some alligators along with beautiful native birds during your visit. Once the engine is off – you'll love the peaceful, quiet setting that the Everglades offers. Be sure to wear a hat that fits tight to your head because otherwise it will blow right off!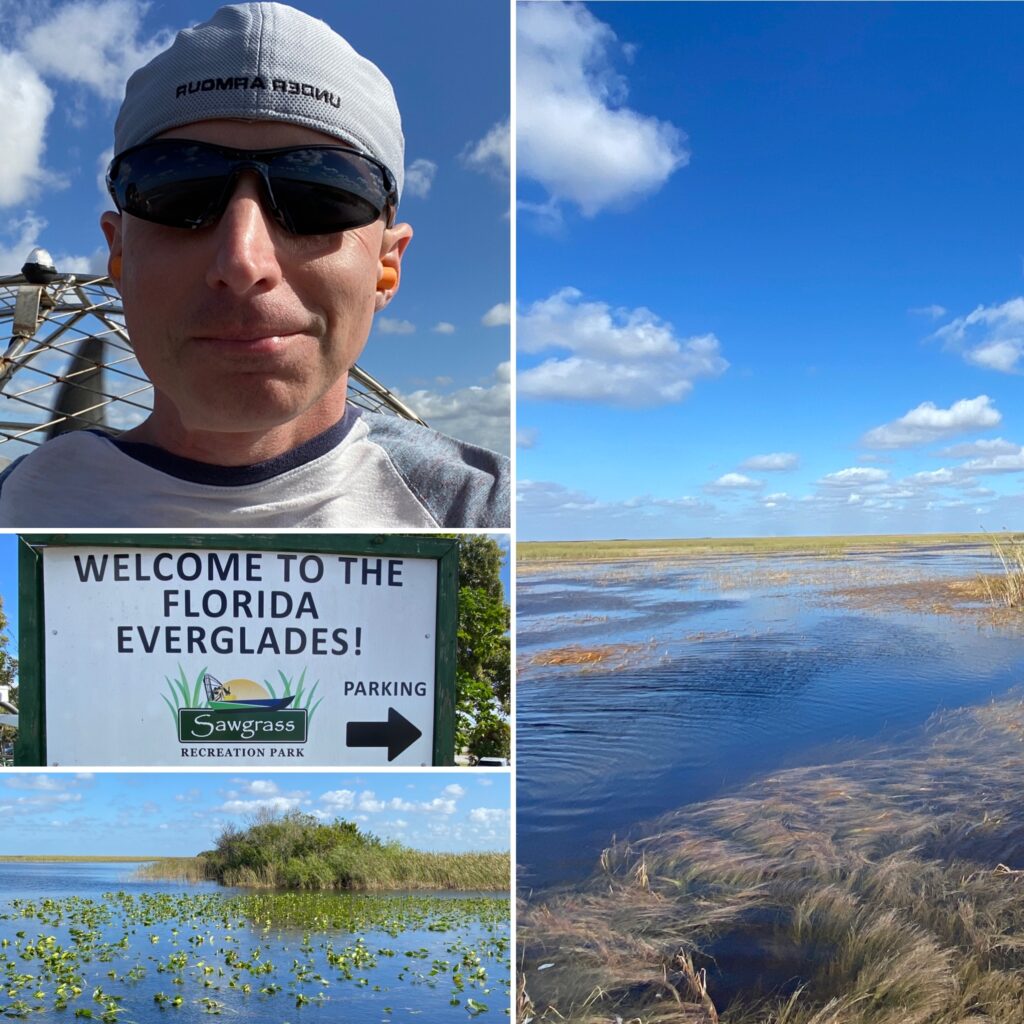 Ready to hit the road to Fort Lauderdale? You can learn more about the region and make your plans by visiting the website: visitlauderdale.com