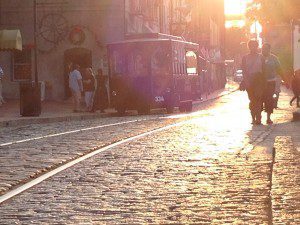 People generally have the same reaction when you tell them you'll be visiting Savannah, Georgia. They tend to make that weird sound that can't really be spelled but indicates utter jealously. It's not so much an "awwww" or "ahhhh" but somewhere in between while their mouth stays open for a few seconds once the noise stops.
My first impression of Savannah was that it had to be one of the most "walkable" cities I've ever been to. Walking was something I did a lot during my two days there in early June. I really didn't see the need for using a car – at least not while being a tourist. You can walk pretty much anywhere.
Savannah is known for it's 22 squares that feature some sort of centerpiece like a statue, fountain or piece of art. I'm pretty sure most tourists attempt to visit all 22. I'm not sure if I saw all of them but I certainly came close. At least that's what my feet told me at the end of the visit.
People were incredibly friendly here as well. Minutes into my trip, a couple of complete strangers helped me navigate to my destination – the Cotton Sail Hotel.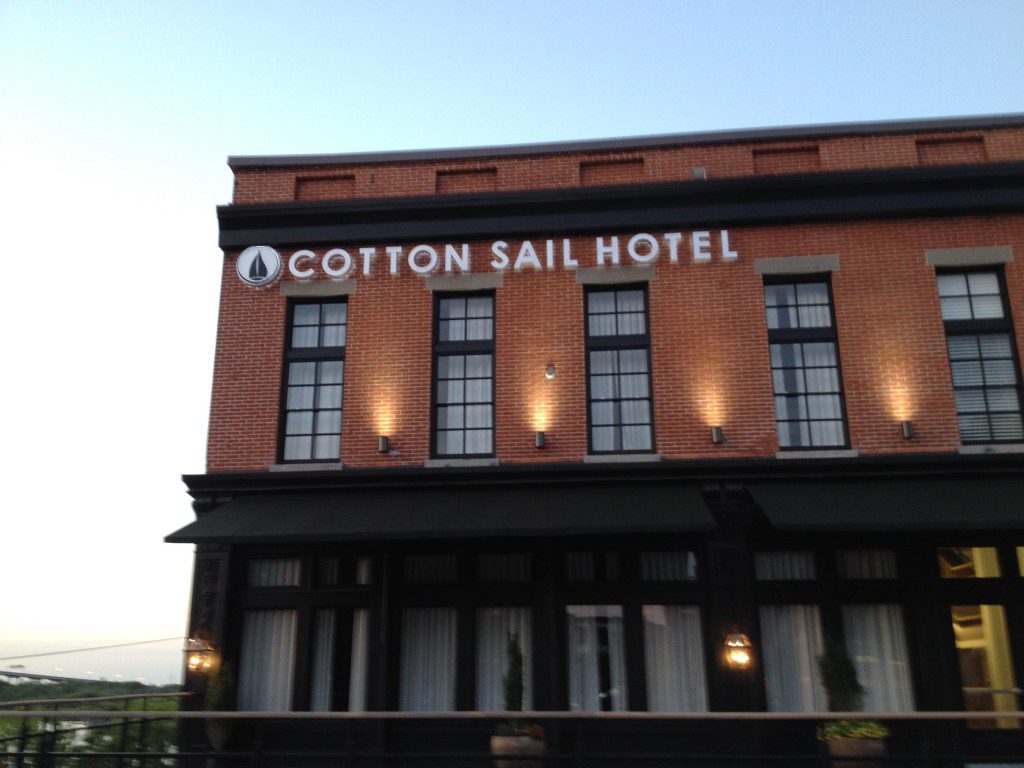 As I clumsily referenced a travel guide later in the afternoon, another kind stranger approached offering directions. Nothing says "out of towner" quite like standing on the street corner, treating a map like an origami project.
The Savannah Visitor's Center offered up a handful of suggestions to make the most of experiencing Savannah – and I'm really glad that I listened to their first piece of advice: take a trolly tour around town before you explore on your own. It's a great way to see everything in a little over an hour and learn a bit of history. While I'm sure the tours vary by company and guide, I lucked out with a very jolly senior citizen that proudly boasted that he only worked 3 days a week – because he loved his job and loves his city.
The trolly tour will no doubt show you things like Henry Ford's first east coast show room, the birthplace of Juliette Gordon Low (founder of the Girl Scouts) and places made famous by the movie Forrest Gump. Speaking of the classic Tom Hank's film – you will not find the iconic park bench Hanks sat on during the film. There's a replica in the Savannah History Museum but that's not the bench. The real bench is somewhere in California – I've heard that it's actually now in a Paramount executive's backyard.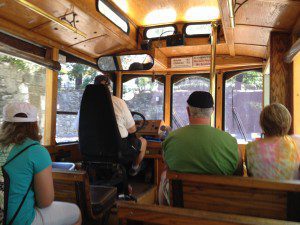 Speaking of Forest Gump – I did stop in for a little lunch at the same diner where Jenny worked in the film. However, this really was more about dying of thirst at the time than a quest to re-live Forest Gump.
Did I see Paula Deen while in town? Negative. Did I seek out Paula Deen while I was in town? Negative.
According to locals – a great pizza place has been lacking for years in Savannah. Who saved the day? Vinnie Van Go Go! It's a fairly new pizzeria that's located in the City Market area. Having not had any pizza to eat for at least 2 days, I was needing a fix. A single slice was HUGE! It was pretty good pizza – but the atmosphere was fantastic!
During my visit I was also treated to dinner by Taylor Griffin of VisitSavannah.com. We dined at Vic's On The River and Taylor actually got me to try something I've never tried before! I cannot stand tomatoes so I've tried to eat a fried green tomato. Check that off the bucket list! I ate more than one so she knew I was being more than just polite.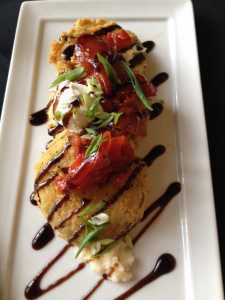 So, one thing that drove me crazy about Savannah is actually a plus for the city. Taking photographs of these beautiful homes can be a daunting challenge because of all of the trees that line the streets! Time after time I'd step back, craving that perfect picture only to have a couple of trees block my view. On the flip side – all of those trees were quite helpful as I walked around on a toasty Summer day.
The riverfront along the Savannah River turned out to be a real gem. It's lined with stores, shops and from the sounds just below my hotel room window – one would assume regular musicians. (One night I fell asleep to the sounds of saxophone.) My last bit of tourist exploration came at a small candy and soda shop where I capped off a wonderful visit with an ice cream float and a couple hours of people watching as the sun went down over the water.
Savannah is probably not a destination for single guys. I'm pretty sure I was the only one in town. However, if you're looking to impress your lady with a getaway or a romantic trip for two – you'll be hard pressed to find a better location in the south. This place has "romance" written all over it.
As I drove away for my next city, I finally understood why people make noises when they hear the word "Savannah".