Is Abingdon, Virginia worth visiting? Yes. Not only is Abingdon worth visiting, you may discover that you never want to leave. If you're looking for a perfect place to spend the weekend, Abingdon should be on your list! And with the leaves starting to change color and the weather getting cooler, Abingdon is a perfect spot for a Virginia road trip!
Abingdon is a small community not far from the border of Tennessee and the town of Bristol – best known for being the birthplace of country music. The town's claim to fame is the Virginia Creeper Trail – a nationally recognized biking trail that runs along an old railroad line dating back to the 1880s. It's also known for the historic Barter Theater. The venue opened in 1933 with patrons using produce to pay for access to performances.
One of my favorite parts of travel is mingling with locals and experiencing first hand the variety of personalities, talents, and sometimes – even colorful characters that give a town its unique charm. For example, I sat on the front steps of the town's Courthouse one night at dusk and listened to ghost stories from Donnamarie Emmert. She's a popular tour guide and storyteller with a flair for humor that highlights the history of her hometown through ghost tales. She noted that she couldn't wait to return to Abingdon after leaving here years ago – a common theme I heard more than once during my visit.
Shockingly, new restaurants and businesses were opening here during the height of the 2020 pandemic while many other places around the country experienced decline. Chalk it up to locals supporting locals, great ideas and dedication, or perhaps a combination of all three. Wolf Hills Coffee was one of those businesses. They hosted a "meet and greet" event where I was able to visit some residents and even a few visitors passing through.
I was able to sample quite a few restaurants during my visit to Abingdon. Of course I didn't even scratch the surface as this community of 8,000 seems to have more places to eat than other towns that are ten times its size. Each place had their own unique qualities – The Peppermill was located inside a former house from the early 1900s with a beautiful staircase and front porch. Not only was the meal delicious, I enjoyed overhearing two older ladies sharing town gossip while I dined.
Equally as impressive – a great restaurant downtown called Foresta alone makes it worth visiting Abingdon. You're welcomed in by a lobby that feels like the Jungle Room at Graceland. The decor is fun and funky. The same could be said of the owner who recently brought a wealth of restaurant knowledge back to town from Nashville, Tennessee.
Two other food stops included White Birch Juice Company which serves the most delicious seasoned homefries and The Girl & The Raven where history was made as I tried cheese grits for the first time in my life.
Food is a big reason people visit, along with outdoor recreation and its historic theater. But the town is also full of artists whose work draws in visitors looking for unique creations of all sorts. I stopped by the William King Museum of Art – located high on a hill with gorgeous views of the region. Local artists can rent space next door to the museum and have their own creative space to do everything from painting to woodwork. Another outlet is the Abingdon Arts Depot – a former train station that was salvaged and refurbished in 1990 to house galleries and studios.
One artist in particular named Nancy Garretson was particularly impressive. She uses yarn to create a type of 3D "picture" like I've never seen before. Even more impressive – she built her very own weaving loom to produce all of her projects. (Meanwhile I'm over here with a dozen extra parts each time I try to assemble IKEA furniture.)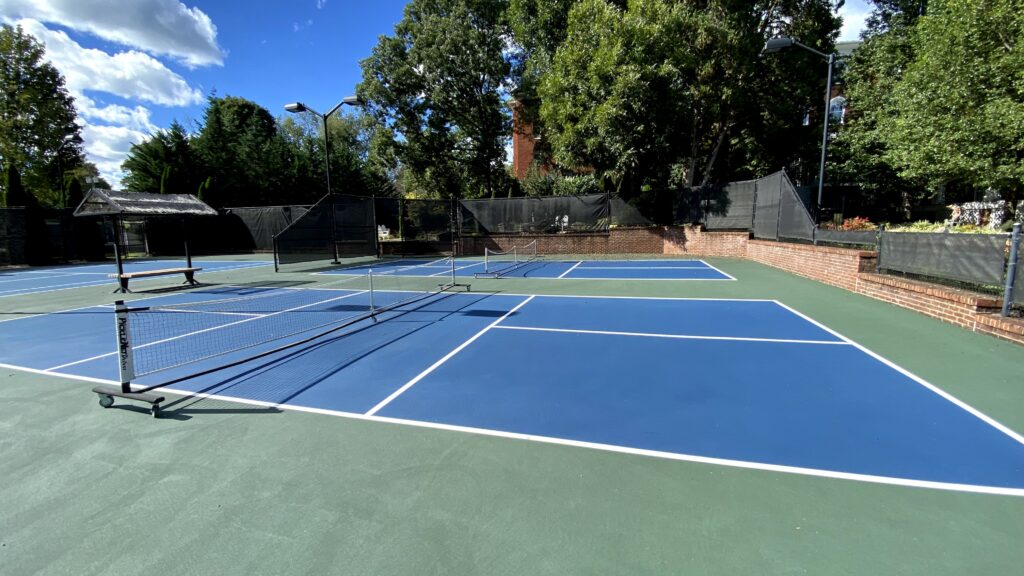 My home away from home during my visit to Abingdon was the incredible Martha Washington Inn & Spa. Yes – the rooms were spacious and the decor gave you a sense of colonial royalty. Yes – there was a massive heated indoor pool. But, I was more impressed that the property had its own pickleball courts and a miniature golf course.
In the weeks leading up to my visit, I shared my travel plans with friends and fellow travelers along the way. Everyone politely nodded as I ticked off the destinations. However, when I ended with a mention of Abingdon – almost every person sprang to life with a jealous grin and declared their love of the small Virginia town. You can take it from the experts when we say – it's worth visiting Abingdon!
To learn more about places to stay in Abingdon or things to do in Abingdon – check out their official tourism website: visitabingdonvirginia.com