December 17th marked the anniversary of the Wright Brother's first successful flight in 1903.  (114 years ago.) Their flight lasted just under a minute at 852 feet.
Dayton, Ohio is where the Wright Brothers were based.  They owned bicycle shops in town – one of which is still standing and can be toured. (The other one that still exists was actually moved to the Henry Ford Museum in Michigan)
The mansion where Orville Wright lived for 35 years is still there and open for tours.
Dayton has several must-see attractions, most having to do with the Wright Brothers or airplanes.
Bike Shop & Visitor Center
Definitely visit the bike shop (it was their 4th location) and walk to the visitor center across the parking lot.  Be sure to try your hand at a virtual operation of an original Wright Flyer. (I crashed twice before giving up.)
Carillon Historical Park
See 30 historical buildings and the original 1905 Wright Flyer III – also known as the world's first practical airplane.  You'll see a patent for the plane which was recorded as the "flying machine".
Dayton is also the birthplace of the cash register.  You'll find a really cool display of old-time cash registers as part of the museum's collection.
Huffman Prairie Field
Yes, it's just an open field with some historical markers.  But, I'm really big on standing in the spots that literally changed the world.  This was the open field where the Wright Brothers practiced and perfected the airplane.  Imagine the world today without airplanes… and it all started right there.
Standing in Huffman Prairie Field is listed as one of the 100 uniquely American experiences to have in 100 Things To Do In America Before You Die. 
Air Force Museum
Dayton is home to the National Museum of the United States Air Force.  I cannot stress enough how incredibly cool this museum is.  First of all,  it's free.  Second, you will need at least two days to see everything.  There are four hangars that total 17 acres of military airplanes, all displayed in chronological order.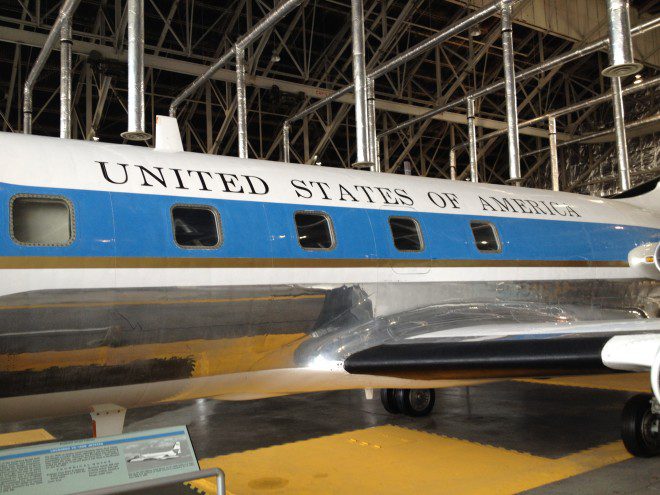 The collection of planes includes the only display in the world of a B-2 stealth bomber.  You'll also find Presidential aircraft including the (former) Air Force One that was used to carry Kennedy's body back from Dallas after he was shot.  You'll also see the plane used by FDR.
There's also a test spacecraft from the 1950's and a space shuttle you can tour.
Useful links:
National Museum of the US Air Force