Glen Campbell's work is featured on hundreds of hit songs in addition to his own successful career as a solo artist and entertainer. And now, the Glen Campbell Museum in downtown Nashville pays tribute to the man who was arguably the greatest guitarist in modern times.
The Glen Campbell Museum opened in 2020 and is located in one of the busiest areas of downtown Nashville. It joins the long list of music themed attractions in the area like the Johnny Cash Museum, RCA Studio B, or the Musicians Hall of Fame & Museum.
The Glen Campbell Museum is loaded with one of a kind treasures that were hand picked by his family for display. The first thing you'll notice, in addition to highlight reels and numerous awards from around the world, is Glen's very first childhood guitar. His father ordered his four year old son the 1939 Plainsman guitar out of Sears-Roebuck catalog.
You'll also see an exhibit on The Wrecking Crew, a group of studio musicians that Glen belonged to early in his career. As part of that group, you can hear Glen play guitar on countless classic songs from the 1960s like Viva Las Vegas, You've Lost That Lovin' Feeling, Strangers In The Night, I Get Around, and I'm A Believer. A guitar he used on many of those songs is in the display case.
Campbell always shined on stage thanks to his colorful suits, often with rhinestones and other sparking materials. Several of those are on display along with a replica of his famous "Rhinestone Cowboy" outfit. (The original one was stolen years ago but an identical copy was made by the same designer for the museum.)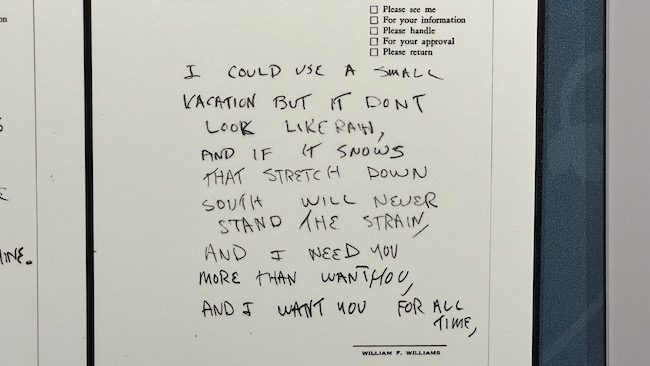 The Glen Campbell Goodtime Hour was a popular variety show on CBS from 1969 to 1972. The museum features a small theater where visitors can chill out and watch humorous clips from the show. Around the corner you'll find an actual script from the show that was gifted to him later in his life.
There's a stage in the center of the museum where concerts regularly take place. Above the stage are clips from some of Campbell's concerts. There are also listening stations with some of his most popular songs.
Other exhibits pay homage to Campbell's work as an actor, notably in the film True Grit. One of the final exhibits in the museum focuses on his farewell tour, the subject of an incredible documentary called I'll Be Me. Campbell had been diagnosed with Alzheimers disease in 2011 and longtime friend, James Keach produced a fascinating and heartfelt look at how the disease impacted his life, while he was still able to play guitar on stage nearly flawlessly.
The self-guided tour of the Glen Campbell Museum wraps up with display cases of some of his personal artifacts like jewelry; a handwritten set-list; his golf clubs, and some of his favorite firearms. One of the family's pool tables sits in front of a series of black and white photos. Campbell loved playing pool and had a table in each of his houses.
You'll need about an hour to look through the museum which is easy to find. It's located on lower Broadway just a stones throw from the Johnny Cash Museum and the Goo Goo Clusters gift shop. You'll take an elevator the second floor to purchase tickets or browse the gift shop.