There are a lot of great road trips from Milwaukee! Centrally located in the upper midwest, there are a lot of options to get "out of town" for a weekend or an extended vacation. All of the destinations on this list are doable in under six hours. Some might be familiar and others might pop on your radar for the first time! Hopefully you'll find at least one or two ideas for your future road trips from Milwaukee!
1. Indianapolis, IN
Indianapolis was one of the first cities I explored when I started this website back in 2013. Obviously, it's famous for hosting the Indy 500 and a tour of the famous speedway is a must when you visit. But Indy is great for more than just race cars. Start with a look at the famous Monument Circle downtown and work your way to the Children's Museum of Indianapolis – hands down the greatest museum for families in the country. It's amazing! Check out the beautiful canal walk that runs through White River State Park, or go for some Duck Pin bowling in Fountain Square. History buffs can check out Benjamin Harrison's house, and if you're a foodie – Indy is loaded with great restaurants!
2. St. Louis, MO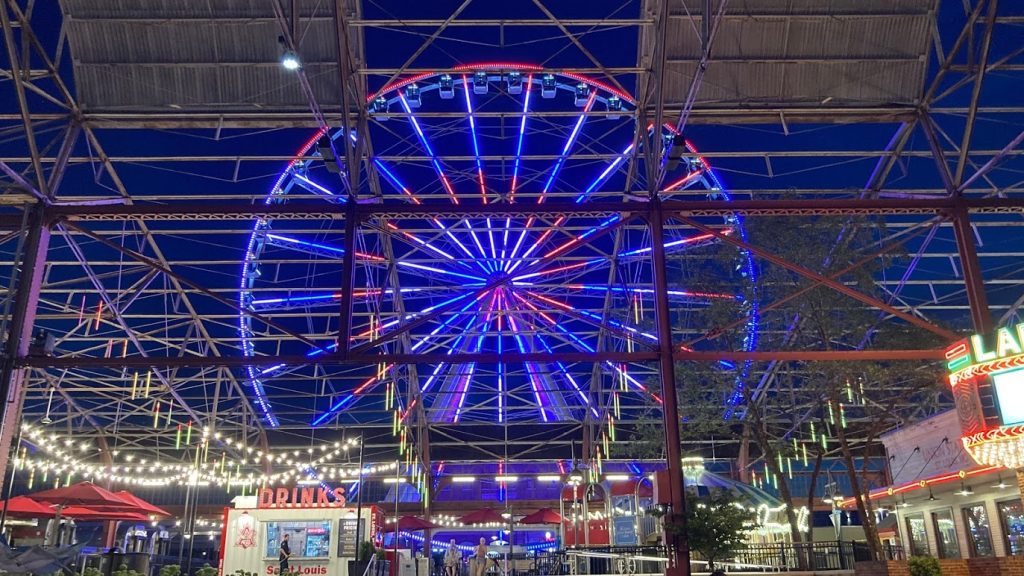 St. Louis is a wonderful destination for families on a budget with so many fun and FREE things to do! In addition to the Gateway Arch, you can visit attractions in historic Forest Park like the St. Louis Zoo, St. Louis Art Museum, Missouri History Museum, and the St. Louis Science Center for no charge at all! Kids will love a visit to the City Museum with its iconic ferris wheel and school bus up on the roof of the building. St. Louis Union Station is full of fun experiences and depending on the time of year, grab tickets to a Cardinals game at Busch Stadium. Don't forget to try toasted ravioli, thin crust pizza, and delicious frozen custard from Ted Drewes on Route 66!
3. Cincinatti, OH
Cincinnati is a perfect road trip if you want to catch the Brewers on the road while playing the Reds. (Mainly because their stadium is mostly empty and it's easy to get tickets!) But truly, Cincy has some fun things to check out. The beautiful Cincinnati Museum Center, once a train terminal, now houses museums and special exhibits. One of my favorite museums in the entire country is located in Cincinnati – The American Sign Museum. Consider taking one of the many guided tours that will showcase the local beer scene, or historical spots around town. The downtown riverfront park has recently undergone renovations and is a great place to ride a bike or take a walk.
Bill's Advice: If you only have time to do one thing in Cincinnati, go and visit the American Sign Museum. It's so cool! I included it in my first book – 100 Things To Do In America Before You Die. You'll thank me for the suggestion!
4. Springfield, IL
About four hours away from Milwaukee, Springfield is a perfect weekend getaway. Rich in history, it's best known for its ties to Abraham Lincoln. You can visit the only home he ever owned and see his final resting place. The Lincoln Presidential Museum is also a must-see! Tour the Illinois state Capitol building and take a tour of the Governor's mansion. (Don't make any jokes about how many of them wind up in prison – they don't think it's as funny as we do.) There is also a wonderful Frank Lloyd Wright property – the Dana Thomas House in Springfield that is worth touring if you love seeing his work.
5. Madison County, IA
I've been visiting Winterset and Madison County for years and always enjoy each opportunity to pass through this mostly quiet, unassuming community located a short drive from Des Moines. If you love the feel of small town U.S.A. where people are still patriotic and treat their neighbors like family – this is the place for you. It's a perfect trip for a romantic getaway or an extended weekend for small town shopping, and outdoor recreation. It's best known as the hometown of movie legend John Wayne and famous for its beautiful covered bridges that were featured in the film The Bridges Of Madison County. Also, be sure to check out the Iowa Quilt Museum and the newly restored movie theater on the square – The Iowa. If you're looking for the best local hangout – Winterset Cidery is the place, with homegrown cider and regular events including live music.
6. Chicago, IL
Chicago may be suffering from some bad press in recent years but it's still a really fun city with so much to see and do! I was there for a visit in the spring of 2023 and had an absolute blast! If it's been awhile since you visited the Windy City – consider a trip to the top of the Willis Tower and experience SkyDeck for a cool look at the city. You can't go wrong with iconic attractions like Shed Aquarium and the Field Museum. Love pizza? Take a Chicago Pizza Tour to sample various pies from around town including the famous deep dish style!
If it's your first time visiting, consider reading my first timers guide to Chicago!
7. Marquette, MI
Marquette is a great spot to start an extended road trip to explore Michigan's Upper Peninsula! Whether you stick close to the town or keep driving along Lake Superior down to Mackinaw Island, there are plenty of beautiful sights to behold including tons of waterfalls! The waterfall pictured above is Bond Falls – one of the estimated 300 waterfalls in the "U.P." Exploring this region is one of the best road trips I've ever taken.
8. Detroit, MI
Don't discount Detroit as a road trip destination! The motor city is still very much alive with a revitalization of its downtown and longtime favorite attractions like the Motown Museum and the nearby Henry Ford Museum in Dearborn. Located less than six hours from downtown Milwaukee, Detroit has wonderful restaurants, museums, the historic Fox Theater, and plenty of sports!
9. Parks County, IN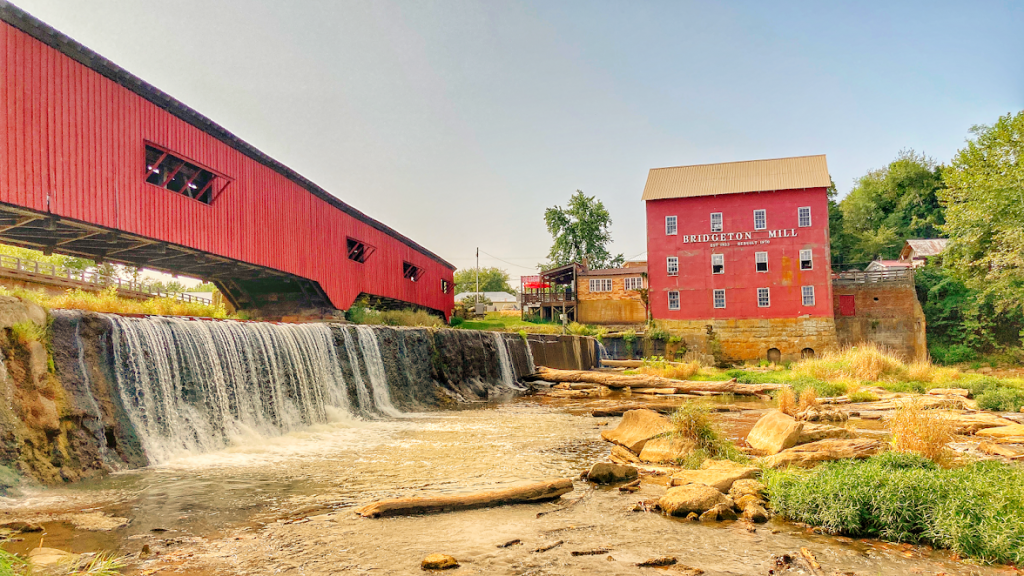 Parke County, Indiana is best known as the "covered bridge capitol of the world"! Located about 4.5 hours from Milwaukee, you'll find a great relaxing destination with some much needed peace and quiet. You can grab an old fashioned map (remember those?) at the local visitors center and then set out to find as many of the historic covered bridges as you can, making it a perfect romantic getaway. Consider booking a room or campsite at Turkey Run State Park, Indiana's most popular state park, for your home base. They offer brand new, minimalist cabins as well. The park has plenty of great hiking trails for all skill levels.
10. Madison, WI
The state capital seems like a no-brainer as it's super close but Madison is always a fun road trip destination. The nearby college town has lots of things to do – one of my favorites being the Dane County Farmer's Market. The longtime event wraps around the entire Capitol building. Patrons all walk in one direction to shop for fresh produce and local goods. Of course, State Street is full of action – all seven blocks between downtown and the University of Wisconsin campus. You can find food (140 restaurants!) unique stores, and plenty of entertainment day or night.
11. Louisville, KY
Of course most people know Louisville as the place where the famous Louisville Slugger baseball bats are made, but that's just the start! Downtown Louisville offers a wide variety of attractions from the Muhammad Ali Center to Churchill Downs where the Kentucky Derby takes place. For an adventure – try out the world's only underground zip line at Louisville Mega Cavern or a cruise on the historic Belle of Louisville. Lots of great restaurants for all tastes and cool places to stay including 21c and The Galt House Hotel.
Bill's Advice: Louisville is a great extended weekend trip! If you love Kentucky Fried Chicken, pay your respects to Col. Sanders himself. His grave site is a short drive from downtown. Just follow the yellow line at Cave Hill Cemetery and you'll find it. Don't be surprised if you see a bucket of chicken sitting on the tombstone. No, seriously.
12. Quad Cities Region
Talk about getting your bang for the buck – how often do you get four destinations packed into a single stop? The Quad Cities is made up of five towns that share the Illinois-Iowa border. (Yes, "quad" makes no sense as there are five and not four – but believe me, they know.) It's best known as the world headquarters for John Deere, and visitors can tour multiple historical spots that tell the story of the famous company. Take a quick side trip up to LeClaire on the Iowa side to see where the show American Pickers began.
13. Fort Wayne, IN
Fort Wayne is probably not a spot that's been on your radar but Indiana's second largest city has a lot going on. Its minor league baseball stadium is award winning and its local library is known as the best genealogy research center in the country. The Fort Wayne Children's Zoo is one of the best designed kid-friendly zoos around and a brand new, beautiful riverfront project has injected new energy into the town. You'll also find lots of opportunity for outdoor recreation.
Bill's Advice: For something unique, visit the headquarters for Sweetwater – one of the largest music and instrument stores in the world. Vera Bradley is also headquartered in Fort Wayne and has events during the year.
14. Indiana Dunes National Park
Yes, Milwaukee has beaches along Lake Michigan – but I thought we wanted to road trip?! Often underrated are the northern beaches of the midwest which are often less crowded, cleaner, and have sunsets that are just as beautiful. You can check out: Indiana Dunes for info on places to stay and things to do in the region. You can sit back and relax, rent a paddle board or kayak and watch your kids burn off energy running up and down the impressive sand dunes.
15. Door County, WI
Door County is always a reliable road trip destination with beautiful scenery along with great places to eat and outdoor recreation. Grab some pancakes at Al Johnson's Swedish restaurant while you gawk at the goats walking on the roof; enjoy a sunset cruise; antique shopping; swim or go for a hike at one of the area's many parks! There's so much to do!
16. Holland, MI
If you thought Holland was in Europe – you are correct! But, America's Holland is located in Michigan and it's a cool town worth exploring. Pick up a pair of wooden shoes (pictured above) and walk along the streets of downtown for great shopping and lots of dining options. (Fun fact: the streets of downtown Holland are heated so they don't have to plow snow in the winter. Genius!) Holland is also home to the only authentic Dutch wind mill that is still operational in the U.S. If tulips are your thing – visit during the annual festival each spring. The Holland Bowl Mill is also very cool – ask them for a quick tour of the production and find a one of a kind wooden bowl to take home!
Bill's Advice: 1) You can save time by taking the ferry across Lake Michigan. 2) I eat a lot of pizza when I'm on the road and Holland has one of the best pizza places I've ever been to. It's called Fricano's Pizza and sometimes, I have dreams about it.
17. Dayton, OH
Dayton is best known as the place that gave birth to modern aviation. The Wright Brothers called Dayton home and the city is full of historic places that will give you a front row seat to the history of the "flying machine" which is how the first airplane was trademarked. One of the original Wright Brothers bicycle shops is still in tact, and you can see an original Wright Flyer at the Carillon Historical Park. Take a ride over to Huffman Prairie Field where the brothers tested out there invention or tour the mansion where they lived. Best of all – Dayton is home to the Museum of The United States Air Force – an unbelievable airplane museum that consists of four different hangars and impossible to see in a single day. See rare military aircraft and even go on board a retired Air Force One plane. And it's free!
18. Wisconsin Dells
It's probably a place you've been to as a kid but the Wisconsin Dells are still a solid choice for a fun family getaway. With hundreds of waterslides and quirky attractions, it's not only a fun stop but an easy road trip from Milwaukee.
19. Traverse City, MI
This one requires taking the ferry across Lake Michigan but it's worth it! Best visited in late summer or early fall, you'll enjoy your share of cherries and everything you can imagine with a cherry theme! Sleeping Bear Dunes is a must when you visit as well as a day downtown to explore over 150 shops and restaurants!
20. Galena, IL
Galena is best known as a historic town with an abundance of beautifully preserved 19th-Century buildings. It's also known for its ties to President U.S. Grant who owned a home there which is open for tours. Horseshoe Mound is a popular spot for viewing three different states at once. Wineries, antique shopping, boutique hotels – it's a perfect weekend getaway from Milwaukee.