Looking for weekend road trips from Atlanta? A couples getaway from Atlanta? Or maybe a family road trip idea from Atlanta? We've compiled the top 20 road trips from Atlanta to get you started on your travel plans! Take a look at the list and get ready to pack your bags and fill your tank for a great adventure!
1. South Walton, Florida
South Walton is full of charming neighborhoods located along Florida's scenic 30A highway and 26 miles of stunning beaches with beautiful white sand and turquoise colored water. Find a spot that suits you to spend your vacation – whether it's at the sprawling Sandestin Resort, or a rental home at one of South Walton's 16 quaint communities.
Travel Time: 5 hours / 310 miles
2. Hendersonville, North Carolina
One of the most beautiful small towns in North Carolina is known for its mountain views, close proximity to waterfalls, a wide variety of locally owned restaurants, and even its own Pinball Museum downtown. Hendersonville is also one of the top spots in the USA for apple orchards with a chance to pick your own fresh fruit at numerous farms around the area starting late in the summer and throughout the fall. Renowned poet, Carl Sandburg owned a home here that visitors can tour through the National Park Service.
Travel Time: 3h 10m / 180 miles
3. Nashville, Tennessee
What's not to love about Nashville? (Okay, maybe rush hour traffic.) Music City USA is hopping these days! Even if hanging out at a honky tonk isn't your thing, Nashville is home to top notch attractions like the Country Music Hall of Fame, Johnny Cash Museum, and the world-famous Grand Ole Opry – which is also the longest running radio broadcast in history. One museum not to miss is the Musicians Hall of Fame & Museum – a truly underrated collection of artifacts and exhibits that pay tribute to the guys and gals playing the music!
Travel Time: 4h / 258 miles
4. Macon, Georgia
If you're a lover of music history, Macon has given us some of the biggest names of all time! Take a tour of Capricorn recording studio, hang out where Little Richard used to play the piano, grab a photo with the Otis Redding statue, and visit "The Big House" where The Allman Brothers lived and wrote some of their biggest hits. Macon has some amazing restaurants and southern food as well!
Travel Time: 1h 25m / 83 miles
5. Greenville, South Carolina
Known as one of the friendliest towns in America, Greenville has an incredible downtown that includes Falls Park, an urban green space with waterfalls and bike trails. The Swamp Rabbit Trail is one of the best biking trails in the south and extends over 22 miles from downtown to neighboring Travelers Rest. You can grab a beer, lunch, or even fresh produce along the way at one of the many shops and restaurants that line the path.
Travel Time: 2h 18m / 145 miles
6. Amelia Island, Florida
Amelia Island is one of the best kept secrets on the eastern coast of Florida. The island has a really cool historic district and lodging like the Florida House Inn that can put you right in the middle of all the action. Be sure to check out the oldest bar in Florida, Fort Clinch State Park, and don't forget to grab a bite at Tasty's – a delicious fast food joint that opened in 2011 with amazing burgers and shakes!
Travel Time: 5h / 356 miles
7. Brevard, North Carolina
Brevard is known as the "land of waterfalls" in North Carolina with easy access to the Pisgah National Forest, DuPont State Forest, and Gorges State Park. Each spot has multiple waterfall hikes, many of which are easy to navigate. Brevard is a great spot to enjoy outdoor recreation of all types – including kayaking, mountain biking, or maybe even fly-fishing. Be sure to look for the famed white squirrels that Brevard is known for! You might see them running around the local college if you look carefully!
Travel Time: 3h / 168 miles
8. Pigeon Forge, Tennessee
Pigeon Forge has been a family friendly gateway to the Smoky Mountains for decades. You can enjoy shows, ride Go Karts and mountain coasters, and of course – enjoy the Great Smoky Mountains National Park and all of its beauty. Unlike Gatlingburg, Pigeon Forge is a bit more spread out making it slightly easier to get around. It's also home to Dollywood – the award winning theme park owned by Dolly Parton. If you're an RV owner, consider staying at the new Margaritaville RV Resort & Lodge.
9. Gulf Shores, Alabama
Some call it the "redneck riviera" but Gulf Shores and Orange Beach are terrific places for a getaway with so much to do for any age group. Of course, if sitting by the beach and watching the waves is all that you want – you can't beat the white sand and beautiful blue water that awaits you. Be sure to take a bike ride through Gulf State Park and try some amazing barbecue at Hog Wild BBQ.
Travel Time: 5h 27m / 348 miles
10. Amicalola Falls State Park & Lodge
If you already live in Georgia, you know how great the state parks are and Amicalola is certainly no exception. Located in Dawsonville, the park sits in the middle of the Chattahoochee National Forest. The focal point, Amicalola Falls is a 729 foot waterfall that ranks as the highest in the state. The park's lodge is first class with cozy rooms, meeting space, and fire places for those chilly fall and winter months up in the mountains.
Travel Time: 1h 30m / 70 miles
11. Memphis, Tennessee
Memphis is one of the best weekend road trips from Atlanta! While it's best known as the place that Elvis Presley called home – Memphis has so much other music history. Sun Records also discovered Johnny Cash, Carl Perkins, Jerry Lee Lewis, and Roy Orbison to name a few. B.B. King has ties to Memphis and don't forget blues legend, W.C. Handy. Beale Street is a great spot for drinks and live music while the National Civil Rights Museum is a must-see collection of exhibits that's based around the Lorraine Motel where Martin Luther King Jr was killed in 1968.
Travel Time: 5h 30m / 390 miles
12. Covington, Georgia
Covinginton is a fun weekend or day trip from Atlanta if you're looking to get out of the city. If you've seen shows like Dukes of Hazard, The Vampire Diaries, In The Heat of the Night, or The Walking Dead – you've seen Covington. That's a small sampling of the more than 100 different productions that have used the town square, local neighborhoods, and of course the iconic courthouse downtown as backdrops for the small, and big screen. In addition to TV shows, Covington has some iconic film history as well. Tara, the fictional home used in the film Gone with the Wind, was based off of a mansion in Covington. (Pictured above) Staying a night a the Twelve Oaks Bed & Breakfast is a must for any movie buff!
Travel Time: 40m / 35 miles
13. St. Simons Island, Georgia
Located off the coast of Georgia, St. Simons Island is a quaint community that offers a slightly more relaxed, quiet setting than places like Savannah with the same moss draped oaks that line the streets. You can meander around the downtown shops and diners or check out one of the many local bike paths. You can also tour the St. Simons Lighthouse which was rebuilt in 1872 after being destroyed in the Civil War.
Travel Time: 4h 30m / 315 miles
14. Destin, Florida
The Emerald Coast has become one of the most popular getaways from Atlanta for good reason – it's beautiful! There's also so much going on it's impossible to keep track. All of the family friendly fun in addition to every restaurant you can imagine and of course – stunning white sand beaches and gorgeous emerald green water. Wander over to neighboring Fort Walton Beach for more shopping and dining options. Oh, and be sure to grab some fresh fish at Dewey Destin's Seafood Restaurant!
Travel Time: 5h / 314 miles
15. Chattanooga, Tennessee
Home of the award winning Tennessee Aquarium, Chattanooga is a lovely Tennessee getaway for families or couples. You're near the iconic Rock City Gardens as well as Ruby Falls. Take a ride on the Lookout Mountain Incline and of course – catch a glimpse of the Chattanooga Choo Choo! Visitors can actually stay the night on board one of these historic train cars!
Travel Time: 2h 7m / 118 miles
16. Bryson City, North Carolina
You can't visit Bryson City without taking a ride on the scenic Great Smoky Mountain Railroad and hiking to some of North Carolina's most beautiful waterfalls. Don't miss the waterfall loop that will take you to at least a dozen of them in one hike. Nearby, check out Mingo Falls in Cherokee, North Carolina. Bryson City has a cool downtown with stores and restaurants, or check out lodging at Bryson Village where you can have a kitchen of your own to prepare meals!
Travel Time: 2h 50m / 164 miles
17. Oconee, South Carolina
What's not to love about chasing waterfalls, enjoying nature and outdoor recreation, and small town charm? Oconee County, South Carolina is the perfect spot to escape the busy city life and enjoy some peace and quiet on hiking trails or a pontoon boat exploring one of the areas beautiful lakes – including Lake Jocassee – named one of National Geographic's Top 50 "Best Places Left on Earth".
Travel Time: 2h / 124 miles
18. Helen, Georgia
19. Huntsville, Alabama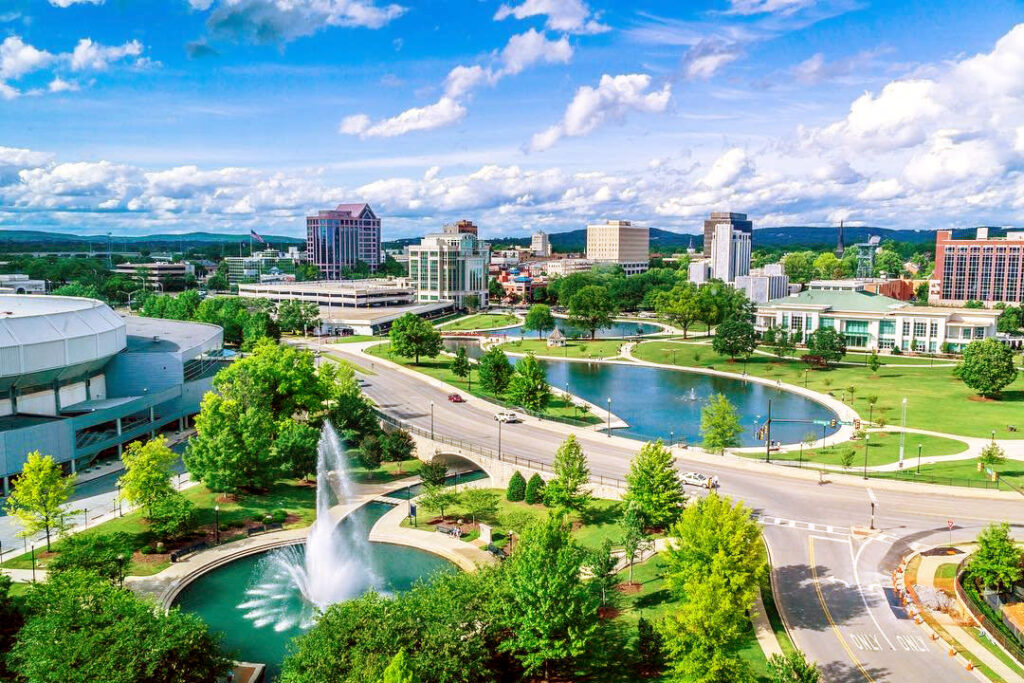 Huntsville has quietly become a top-notch tourist destination starting with its ties to NASA and the U.S. Space & Rocket Center. For decades, this is where kids from across the country have visited to attend "space camp" – but now there are many reasons to visit this hip Alabama town. The views are great, lots of outdoor recreation, a growing foodie scene, and a beautiful botanical garden.
Travel Time: 3h 15m / 180 miles
20. Knoxville, Tennessee
Knoxville is a gateway to the Smoky Mountains for sure but it can certainly stand on its own as a first class college town. Its downtown is easily walkabout with great restaurants, a historic theater, and fun sculpture garden mixed in-between. The World's Fair Park is a must-see and you'll need to take a ride to the top of the Sunsphere for a 360 degree look at the town from high above. Just avoid visiting during a football game weekend as this place is packed with visitors cheering on their beloved team.
TOP 20 ROAD TRIPS FROM ATLANTA
South Walton, Florida
Hendersonville, North Carolina
Nashville, Tennessee
Macon, Georgia
Greenville, South Carolina
Amelia Island, Florida
Brevard, North Carolina
Pigeon Forge, Tennessee
Gulf Shores, Alabama
Amicalola Falls State Park & Lodge
Memphis, Tennessee
Covington, Georgia
St. Simons Island, Georgia
Destin, Florida
Chattanooga, Tennessee
Bryson City, North Carolina
Oconee, South Carolina
Helen, Georgia
Huntsville, Alabama
Knoxville, Tennessee