If you're looking for road trips from Indianapolis – you've come to the right place! Whether you're looking for vacation ideas or weekend trips from Indy – we've got some great ideas for you!
Here are 20 road trip ideas from Indianapolis:
1. Put-in-Bay, Ohio
Clocking in at just under five hours from Indy, Put-in-Bay is a tropical getaway in the middle of Lake Erie just off the shore of northern Ohio. You'll take a ferry to the island and find live music, nightlife, great shopping and food, as well as plenty of things to keep you busy! Rent a golf cart to tour the island in style! If the party atmosphere isn't your style, take the ferry over to nearby Kelleys Island for a more peaceful, secluded atmosphere.
Travel Time: 4h 51m / 276 miles
2. Pigeon Forge, Tennessee
Is there anything better than looking up and seeing the Smoky Mountains in the skyline while you play mini golf, ride an alpine coaster, or walk into a gigantic replica of the Titanic? Pigeon Forge is a family friendly destination with lots of fun attractions, entertainment, and one of the best theme parks in the country – Dollywood! Best of all – you're a hop, skip, or a jump away from the nation's most visited National Park. If you've never seen it in person – it's a life changing experience. Nothing like it! And admission to the park is absolutely free. Pigeon Forge is also home to one of the neatest crime museums I've ever seen – Alcatraz East Crime Museum is definitely worth a visit!
As a travel lover, one of the essential parts of a trip is buying souvenirs. Bringing home gifts with different regional characteristics also preserves a precious memory. Choosing a custom gift is a good choice. GS-JJ can help you make it happen! 
Read: Top 10 Things To Do in Pigeon Forge
Travel Time: 5h 50m / 391 miles
3. Milwaukee, Wisconsin
Milwaukee may be known worldwide for cheese and beer but there's so much more! You can keep busy for several days exploring places like the Harley-Davidson Museum, the Milwaukee Public Market, and watching the famous wings open on the Milwaukee Art Museum. If you love a good festival – Milwaukee has lots and lots of them including the world's largest music festival each summer. The city has an endless amount of great food for all tastes, and don't forget the beautiful views of Lake Michigan. Take the time to explore some of the historic downtown neighborhoods and don't leave without buying a bag of fresh cheese curds for your road trip home.
Travel Time: 4h 9m / 279 miles
4. Dayton, Ohio
Dayton is best known as the place that gave birth to modern aviation. The Wright Brothers called Dayton home and the city is full of historic places that will give you a front row seat to the history of the "flying machine" which is how the first airplane was trademarked. One of the original Wright Brothers bicycle shops is still in tact, and you can see an original Wright Flyer at the Carillon Historical Park. Take a ride over to Huffman Prairie Field where the brothers tested out there invention or tour the mansion where they lived. Best of all – Dayton is home to the Museum of The United States Air Force – an unbelievable airplane museum that consists of four different hangars and impossible to see in a single day. See rare military aircraft and even go on board a retired Air Force One plane. And it's free!
Travel Time: 2h 11m / 117 miles
5. Parke County, Indiana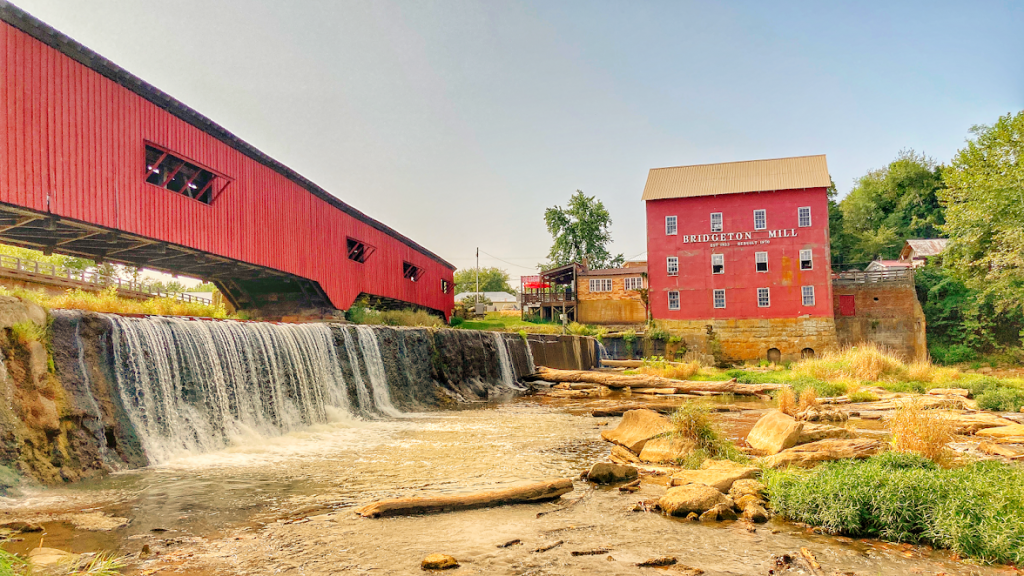 Parke County, Indiana is best known as the "covered bridge capitol of the world"! Located less than than two hours from downtown Indy, you'll find a great relaxing destination with some much needed peace and quiet. You can grab an old fashioned map (remember those?) at the local visitors center and then set out to find as many of the historic covered bridges as you can, making it a perfect romantic getaway. Consider booking a room or campsite at Turkey Run State Park, Indiana's most popular state park, for your home base. They offer brand new, minimalist cabins as well. The park has plenty of great hiking trails for all skill levels.
You can check out my post on visiting Parke County for other tips and suggestions: This is the Covered Bridge Capitol of the World
Travel Time: 1h 40m / 78 miles
6. Adventures On The Gorge – Lansing, West Virginia
The New River Gorge Bridge is one of the most impressive architectural feats in American history. One of the many daring activities offered through Adventures On The Gorge in Lansing, West Virginia is called "Bridge Walk". You can literally walk along the catwalk beneath the third highest bridge in the U.S. It's not for everyone, but an unforgettable experience for thrill seekers! During your stay at the adventure resort, you can zip line, climb trees, enjoy incredible sunsets, and of course – some of the best whitewater rafting in the world.
Travel Time: 5h 50m / 372 miles
7. St. Louis, Missouri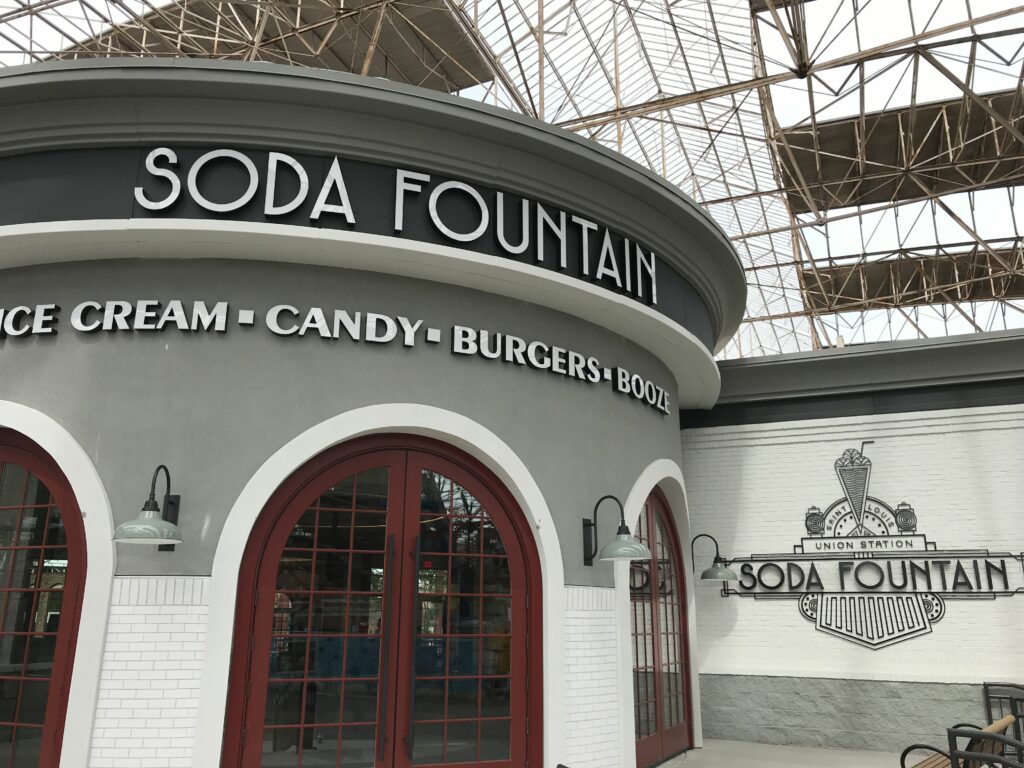 The Gateway to the West is more than just the country's tallest national monument. (630 feet high, in case you were wondering – and yes, you can take a tram all the way up to the top.) Saint Louis is home to Forest Park, which is bigger than New York's Central Park, and full of free attractions like the Saint Louis Science Center, Missouri History Museum, Saint Louis Art Museum and yes – the award winning Saint Louis Zoo, which is only one of two major zoos in the America with free admission. Enjoy a great meal on "The Hill" – the last still thriving Italian neighborhood in America and take your kids to City Museum – one of the most bizarre, yet incredible places in the midwest. Tour Budweiser, take a stroll at the Missouri Botanical Garden, or try some St. Louis style thin crust pizza or toasted ravioli! Yum!
More fun: Here are 10 "quirky" things to do in St. Louis!
Travel Time: 3h 35m / 243 miles
8. Springfield, Illinois
This is a great road trip idea for history lovers – Abe Lincoln's hometown of Springfield, Illinois! You can spend an entire weekend exploring where Lincoln served in the Illinois legislature, worked as a self-taught lawyer, and lived with his family. You can tour the only home he ever owned which is beautifully preserved along with the neighborhood where he lived. Lincoln is also buried in the local cemetery beneath a massive tomb. You can also enjoy some Route 66 history and tour the state's capitol building as well as the Governor's mansion.
Travel Time: 3h 11m / 213 miles
9. Holland, Michigan
If you thought Holland was in Europe – you are correct! But, America's Holland is located in Michigan and it's a cool town worth exploring. Pick up a pair of wooden shoes and walk along the streets of downtown for great shopping and lots of dining options. (Fun fact: the streets of downtown Holland are heated so they don't have to plow snow in the winter. Genius!) Holland is also home to the only authentic Dutch wind mill that is still operational in the U.S. If tulips are your thing – visit during the annual festival each spring. The Holland Bowl Mill is also very cool – ask them for a quick tour of the production and find a one of a kind wooden bowl to take home!
Bill's Advice: I eat a lot of pizza when I'm on the road and Holland has one of the best pizza places I've ever been to. It's called Fricano's Pizza and sometimes, I have dreams about it.
Travel Time: 3h 40m / 235 miles
10. Pittsburgh, Pennsylvania
Famous for having more bridges than any other U.S. city, Pittsburgh is a terrific destination for a weekend or extended getaway. You can take in a baseball game with beautiful views of the Sixth Street Bridge, take a ride on the historic Duquesne Incline, or visit the city's quirky bicycle museum. If you grew up watching Mr. Rogers, Pittsburgh was his home town and you can spend a day exploring all things Mr. Rogers – including seeing the very sets from the iconic television show and his puppets!
Check out my story: Finding Mr. Rogers in Pittsburgh.
Travel Time: 5h 21m / 360 miles
11. Owensboro, Kentucky
Just south of Evansville is the bluegrass music capitol of the world – Owensboro, Kentucky. If you like the idea of watching local bands in a barn, taste testing bourbon, eating good barbecue, or catching catfish – you'll love this place. Owensboro is also home to the Bluegrass Music Hall of Fame and music legend Bill Monroe. You can even tour his childhood home.
Travel Time: 3h 10m / 197 miles
12. Cincinnati, Ohio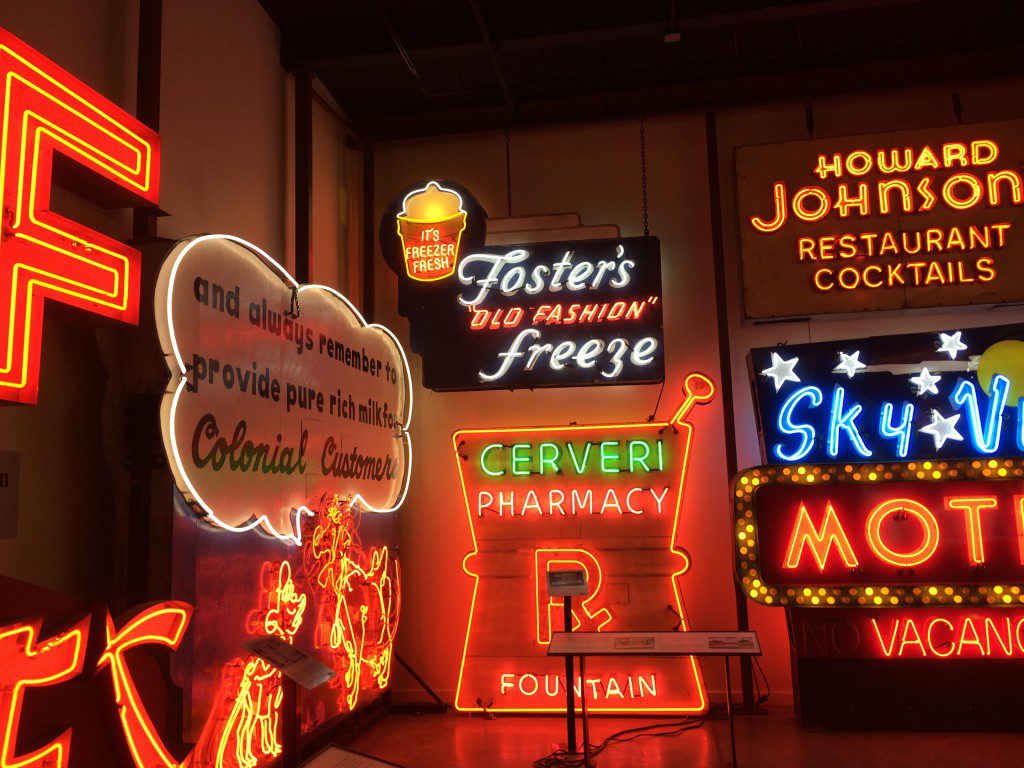 There's a lot to see and do in Cincinnati! One of my favorite museums – The American Sign Museum is alone worth the road trip. Downtown you'll find some fun places to eat, catch a game at Great American Ballpark, or take a stroll along the Ohio river on the beautiful hiking and biking trails. If you take a short drive (or walk) across the bridge downtown you'll wind up in Covinginton, Kentucky. This historic town that was once notorious for gangsters is now a lovely area with dining and shopping, plus great views looking back at the Cincinnati skyline. Speaking of "skyline" – Cincy's famous chili is available all over town. (I'm not personally a fan – but a lot of people like it!)
Travel Time: 1h 42m / 112 miles
13. Madison, Wisconsin
The state capital of Wisconsin is constantly ranked as one of the best places to live in the U.S. Madison is also a fun college town with lots of things to do – though its best to visit in the spring and summer months if you hate cold weather. My favorite thing to do in Madison is the Dane County Farmer's Market that wraps around the entire Capitol building. Patrons all walk in one direction to shop for fresh produce and local goods. Of course, State Street is full of action – all seven blocks between downtown and the University of Wisconsin campus. You can find food (140 restaurants!) unique stores, and plenty of entertainment day or night.
Bill's Advice: Tour the beautiful Wisconsin State Capitol, and enjoy some time relaxing near the water. (You can ice skate in the winter months) For a quirky stop – a short drive to Middleton will get you to the National Mustard Museum!
Travel Time: 4h 51m / 330 miles
14. Nashville, Tennessee
Music City USA has seen a major boom in recent years. Along with the treasures that have always made Nashville great, there are brand new attractions and businesses making it one of the hottest cities in the south. For country music fans – the Hall of Fame is a great bet, along with a tour of the Ryman Auditorium and Grand Ole Opry. These days, Broadway is a happening street akin to Times Square in New York City. Bars, live music, and plenty of good people watching. Check out an exact replica of the Parthenon in Centennial Park, and be sure to try some authentic Nashville Hot Chicken while you're in town!
Bill's Advice: Nashville is great for a weekend but definitely plenty to do for an extended visit or vacation. It's also one of the most popular cities on the list – which means it's going to be busy. Brace yourself for crazy traffic, higher than average prices to park your car downtown, and lots of people. To save a bit of money, consider staying in one of the many communities that surround Nashville or out near the airport. If you're a country music fan – the George Jones Museum is a must! If not, you can still check out the rooftop bar on the fourth floor with great views of the river.
Travel Time: 4h 10m / 288 miles
15. Door County, Wisconsin
One of the prettiest destinations in all of the midwest is Door County, Wisconsin. With its welcoming small communities, abundance of outdoor adventure, and of course – cherries galore – it makes for a perfect road trip. Be sure to check out the goats walking atop the roof of Al Johnson's Swedish restaurant in Sister Bay, take a sunset cruise from Fish Creek to capture some beautiful photos, and of course if your timing is right – pick some fresh cherries in one of the many orchards in the area.
Bill's Advice: Be sure to pop into the Wisconsin Visitors Center and pick up a cheese map! You'll find every location for fresh cheese and cheese curds all of the state. It's fantastic!
16. Louisville, Kentucky
Of course most people know Louisville as the place where the famous Louisville Slugger baseball bats are made, but that's just the start! Downtown Louisville offers a wide variety of attractions from the Muhammad Ali Center to Churchill Downs where the Kentucky Derby takes place. For an adventure – try out the world's only underground zip line at Louisville Mega Cavern or a cruise on the historic Belle of Louisville. Lots of great restaurants for all tastes and cool places to stay including 21c and The Galt House Hotel.
Bill's Advice: Louisville is a great weekend trip! If you love Kentucky Fried Chicken, pay your respects to Col. Sanders himself. His grave site is a short drive from downtown. Just follow the yellow line at Cave Hill Cemetery and you'll find it. Don't be surprised if you see a bucket of chicken sitting on the tombstone. No, seriously.
Travel Time: 1h 43m / 113 miles
17. Quad Cities, Illinois/Iowa
Talk about getting your bang for the buck – how often do you get four destinations packed into a single stop? The Quad Cities is made up of five towns that share the Illinois-Iowa border. (Yes, "quad" makes no sense as there are five and not four – but believe me, they know.) It's best known as the world headquarters for John Deere, and visitors can tour multiple historical spots that tell the story of the famous company. Take a quick side trip up to LeClaire on the Iowa side to see where the show American Pickers began.
Bill's Advice: Try some Whitey's Ice Cream while you're in the region because it's amazing! It is seriously so good that it's the first thing I want to do when I pass through the region. I've interviewed the family that owns it – and they're very nice!
Travel Time: 4h 30m / 306 miles
18. Fort Wayne, Indiana
Fort Wayne is probably not a spot that's been on your radar but Indiana's second largest city has a lot going on. Its minor league baseball stadium is award winning and its local library is known as the best genealogy research center in the country. The Fort Wayne Children's Zoo is one of the best designed kid-friendly zoos around and a brand new, beautiful riverfront project has injected new energy into the town. You'll also find lots of opportunity for outdoor recreation.
Bill's Advice: For something unique, visit the headquarters for Sweetwater – one of the largest music and instrument stores in the world. Vera Bradley is also headquartered in Fort Wayne and has events during the year.
Travel Time: 1h 57m / 126 miles
19. Indiana Dunes National Park
So let's be honest, Indiana isn't exactly a great place to live if you crave frequent road trips to the ocean. Florida? California? Better save some money for gas. However, it's an easy trip to some of the beaches along beautiful Lake Michigan. Often underrated are the northern beaches of the midwest which are often less crowded, cleaner, and have sunsets that are just as beautiful. You can check out: Indiana Dunes for info on places to stay and things to do in the region. You can sit back and relax, rent a paddle board or kayak and watch your kids burn off energy running up and down the impressive sand dunes.
Travel Time: 2h 16m / 153 miles
20. Columbus, Ohio
Columbus, known to locals as "C-Bus" is the capitol city of Ohio. It's been going through major growth over the last decade and is a destination worthy of a road trip. The sprawling downtown is easily accessible with the new CBUS Circulator, free to use for visitors. Check out the Short North Arts District for galleries, dining, and locally owned shopping. Local attractions include the Franklin Conservatory and Botanical Garden, the COSI Science Museum, Columbus Art Museum, and the Columbus Zoo which is one of the best in the country. Be sure to take a free tour of the Ohio state capitol building as well!
Travel Time: 2h 36m / 176 miles
Top 20 Road Trip Ideas From Indianapolis
Put-In-Bay, Ohio
Pigeon Forge, Tennessee
Milwaukee, Wisconsin
Dayton, Ohio
Parke County, Indiana
Adventures On The Gorge, West Virginia
St. Louis, Missouri
Springfield, Illinois
Holland, Michigan
Pittsburgh, Pennsylvania
Owensboro, Kentucky
Cincinnati, Ohio
Madison, Wisconsin
Nashville, Tennessee
Door County, Wisconsin
Louisville, Kentucky
Quad Cities Region
Fort Wayne, Indiana
Indiana Dunes National Park
Columbus, Ohio