I always look forward to writing these annual "things I learned" articles.  It's a great way to reflect on all of the wonderful experiences I've been fortunate enough to have and a way to eventually look back at my years on the road.  For you, these end-of-the-year pieces are a great tool with a lot of information about things I've covered in the past 12 months.  You'll find useful links to stories, videos, and hopefully be inspired by an experience or two you'd like to have for yourself in the coming year.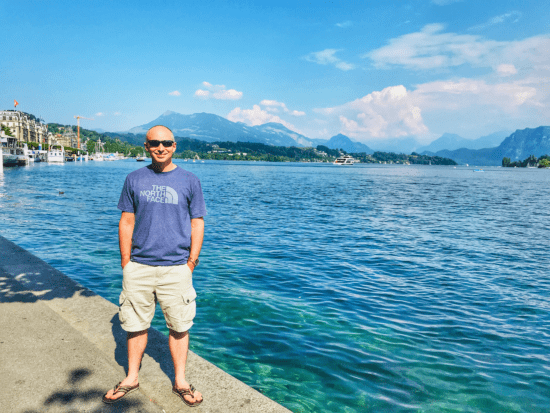 2019 was a year with a lot of "firsts".
Early in the year I experienced riding an electric bike in South Walton, Florida.  I spent a morning with the founder of YOLO. (They make paddle boards, too!)  I had not been on a bicycle in years, and the saying is true – you never forget how to ride one.  If you have a chance to use one in your travels – don't miss the opportunity. They make exploring a lot of fun.
Another first was attending church in a bar.  But, not just any bar.  The world famous Flora-Bama Bar in Gulf Shores, Alabama.  Don't knock it 'til you try it.  The place was packed with snow birds from all over the country, and it was definitely a unique experience with a great inspirational speaker and live band!
While I was visiting Gulf Shores, I had yet another "first": flying in a gyrocopter.  If you don't know what that is, don't feel bad because neither did I.  And for whatever reason – I agreed to go for a ride before I did an internet search.  I had an awesome pilot and was able to produce a fun video about the entire experience.
I've always tried to visit state Capitol buildings when I have the chance.  I can add three more to my list: Columbia SC, Montgomery, AL, and St. Paul, MN.  Columbia's state house is interesting because they begin their legislative session with a procession that involves carrying a sword. Then the sword is placed in a special holder that turns lights on in the chamber.
I'm fascinated with homes of well known people as well.  This year I visited the former homes of Martin Luther King, Jr. (Montgomery, AL), Billy Graham (Charlotte, NC), Andy Griffith (Mt. Airy, NC), The Wright Brothers (Dayton, OH) and Johnny Cash (Bon Aqua, TN).
I wrote another book: Driving Across America.  It's full of short stories about my travels, and some of the interesting people I've profiled along the way.
Made a return visit to Medora, North Dakota and Theodore Roosevelt National Park.  I was a guest speaker at the Midwest Travel Network Conference and finally attended Medora The Musical! 
Visited the original location of Kentucky Fried Chicken.  Col. Sanders didn't start his famous franchise until he was in his 60s.  So if you're younger than that and still have a dream – it's obviously never too late.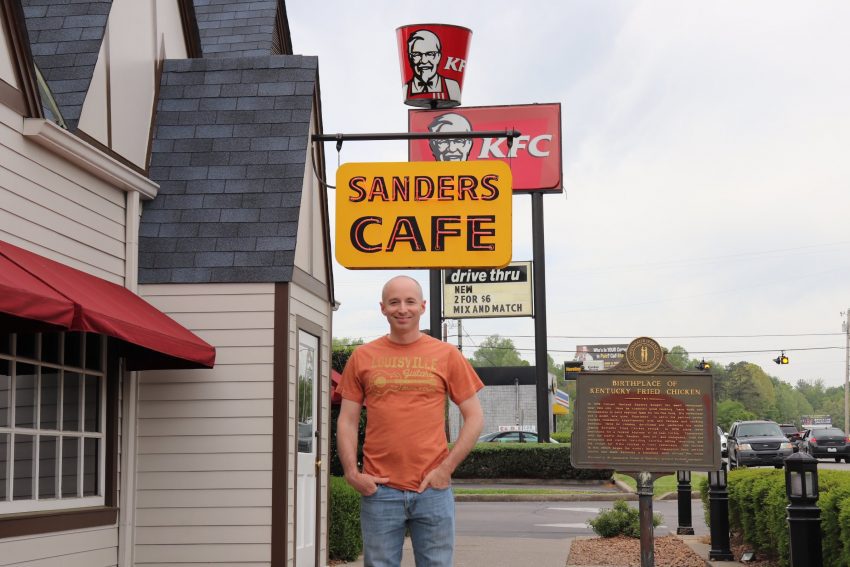 I toured the SPAM Museum although I still have never been brave enough to actually taste it.
Climbed up Grandfather Mountain in Blowing Rock, North Carolina and went hiking on the hottest day of the year at Petit Jean State Park outside of Little Rock, Arkansas.
Getting to hang around Dolly Parton was definitely a highlight of 2019 – she's just as kind and down to earth as you'd hope she would be.  Speaking of Dolly, during a visit to Pigeon Forge, Tennessee I was volunteered to participate in the Dixie Stampede show in front of the entire audience. (I was in a toilet seat "horse shoe" throwing contest.  I lost.)
Went to two different plane crash sites: Clear Lake, Iowa (Buddy Holly) and Camden, Tennessee (Patsy Cline).  Also went to the grave site of Hank Williams.  (The only grave site I've seen with astroturf.)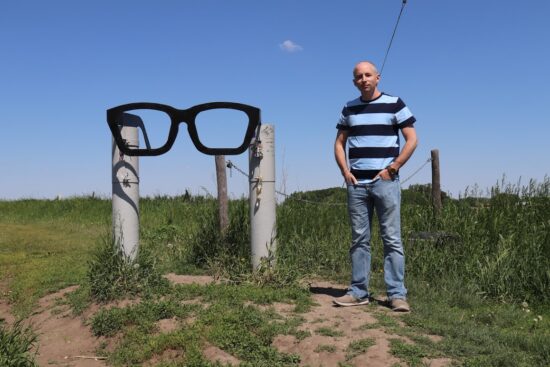 Although I didn't get to see one while I was visiting, I learned about something called a "moon bow" while at Cumberland Falls State Park in Kentucky.  It's one of a few places on earth where a rainbow is produced by moonlight.
People are always trying to get me to spend the night in unique places.  This year I spent the night on a tugboat in St. Paul, Minnesota and in a former grade school in Grinnell Iowa.
I also spent the night on a boat in Europe.  Nine nights to be exact.  While it's not an American road trip experience – it was a once in a lifetime travel experience that I'll never forget.  In July I took a Rhine River cruise and explored Germany, France, Switzerland, and The Netherlands.  It was absolutely incredible.  The biggest takeaway?  Amsterdam has more than 800,000 registered bicycles for citizens.  They were EVERYWHERE!
Back at home, I did a St. Louis experience for the first time – went paddle boating (or pedal boating) in Forest Park.  If you've never tried it and think it looks easy. Think again.  I thought I was going to die out there.
Loved seeing my  hometown St. Louis Blues win the Stanley Cup Championship in 2019.  However, I had to watch from a hotel room in Fargo, North Dakota.  (I was at a rest stop in Iowa during the victory parade.)
This year I launched a project called Dinks & Drives with the folks at Gamma Sports.  I'll be introducing communities around the U.S. where people are playing pickleball.  I filmed the first few segments in Missouri, South Carolina, and Georgia.
And last but not least – I started my 20th year in broadcasting back in October.  What a ride it has been.  And what a year it was.  Thanks for joining me.
Happy new year!
-Bill